Personalization & Products
Personalization isn't just about honoring your loved one's individuality. It also allows family and friends to feel connected to the services and the life being honored. We work closely with you and your family to get to know your loved one's life story so we can make their services as personal as possible.
Life Tribute Videos
We'll create a one-of-a-kind Tribute Video by combining family photographs, music of your choice, and professional effects to share your loved one's special journey during the service. This video also is available as a DVD and meaningful keepsake after the ceremony is over.
Personalized Stationery
Our high-quality stationery sets have more than 500 themes you can choose from to honor your loved one. You can view our collection online or we can help you find the perfect theme during our arrangement conference.
Keepsake Candles
Honor your loved one with these personalized glass candles. We'll customize your candle so you can take it home and have a little bit of warmth and light in your time of grief. They're easy to refill, so you can keep them for years to come.
---
Other Merchandise
We also offer a wide range of products, from beautiful memorial products to unique urns. If you have any questions about the items you see below, please feel free to get in touch with us. We'll be happy to answer any questions you may have.

SELECT FROM THE CATEGORIES BELOW TO VIEW OUR WIDE RANGE OF PRODUCTS


Brass
Cloisonné
Cultured Marble
Hardwood
Keepsake
Metal
Scattering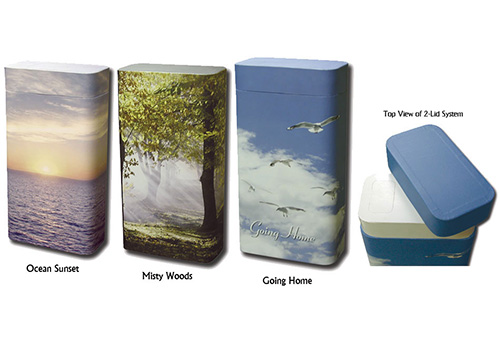 Scattering Urn
Various themes available.
Price: $75.00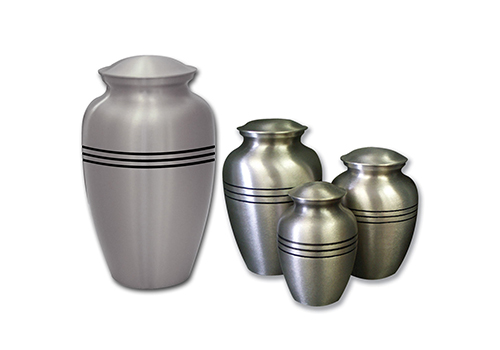 Brass Keepsake Urn
Various styles available.
Price: $95.00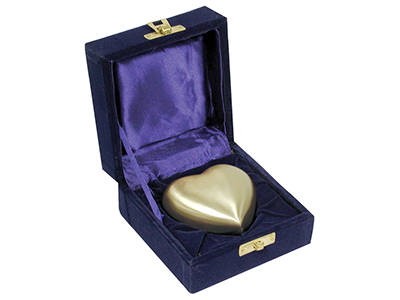 Brass Heart Shaped Keepsake
Various styles available. 
Price: $105.00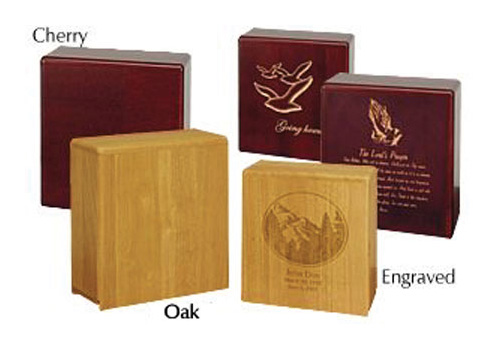 Pioneer Cherry Finish Urn
Made of solid wood in a Cherry finish. 9.7" W x 10.3" H x 4.1" D, 300 c.i.
Price: $175.00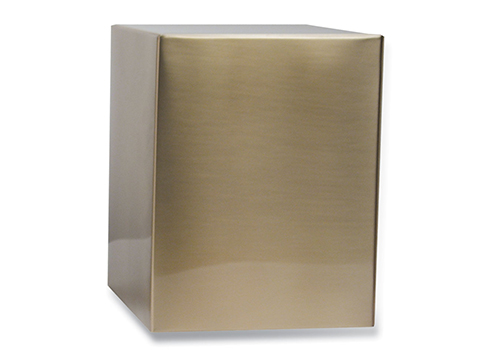 Sheet Bronze
Finally a quality built and economically priced polished bronze urn. Carefully fabricated and finished in .016 sheet bronze, each urn features an exclusive Snap-Lock lid, eliminating the need for soldering to obtain permanent closure. 5.7"w x 5.7"d x 7"h, 212 c.i. Includes Choice of Applique.
Price: $195.00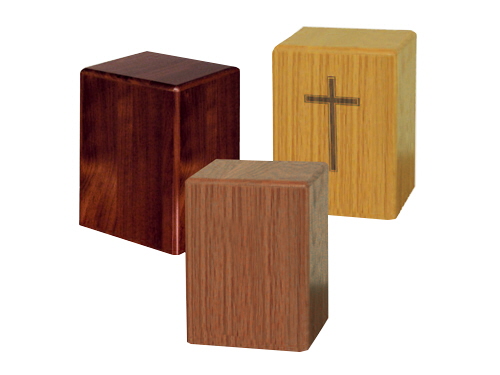 The Statesman
Solid Light Oak, Solid Dark Oak, Solid Cherry or Solid Maple.

200 C.I. 6.3"W x 6.3"D x 8.5"H

Water-Based Eco-Friendly Stains.
Price: $250.00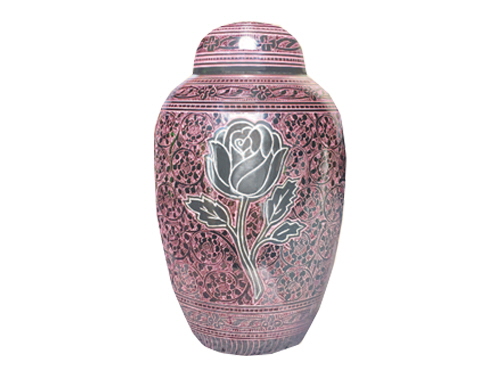 Eternal Rose
Price: $285.00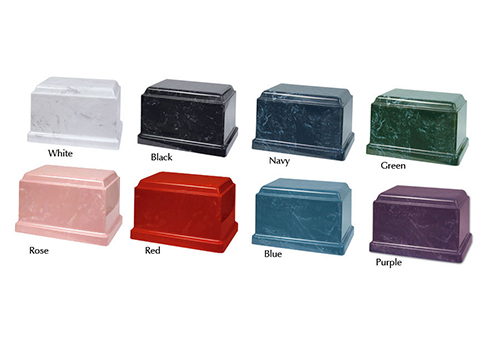 Cultured Marble
A beautiful hand-crafted cultured marble urn, holding up to 230 C.I. The highest quality cultured marble urn on the market today. Available in eight elegant colors: White, Rose, Black, Green, Blue, Red, Purple, and Navy. Outer Dimensions: 11.3" W x 7.9"D x 7.2"H
Price: $295.00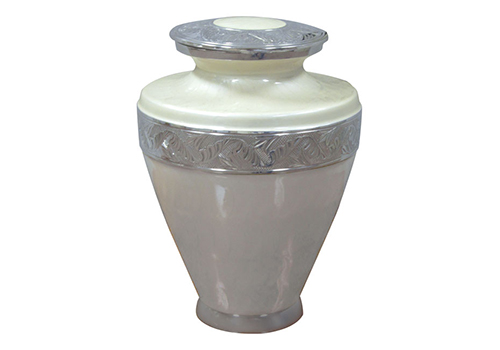 Silver Pearl
Price: $295.00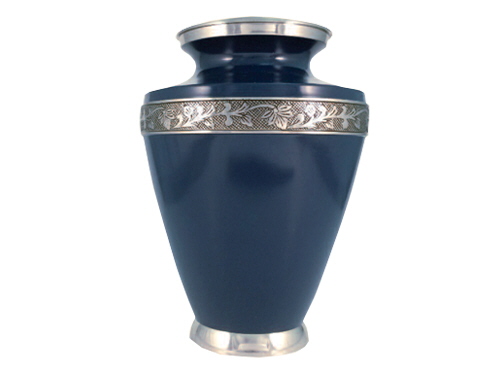 Navy Elegance
Price: $295.00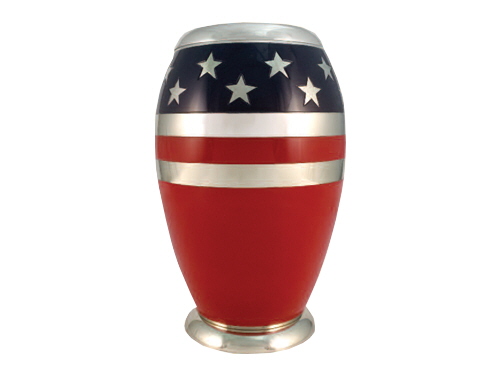 Stars and Stripes
Price: $350.00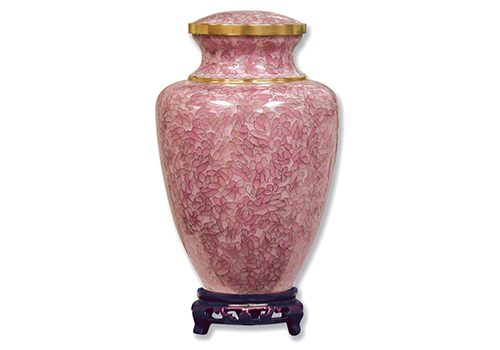 Rose Cloisonné
With screw on lid 10.5" x 7.1", 200 c.i. Stand Included.
Price: $350.00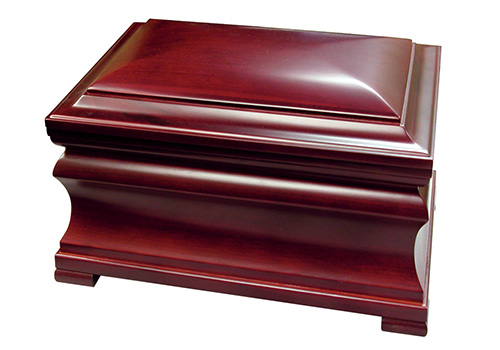 The Presidential
This exquisite single urn is made from solid hardwood and features a sliding top. The Presidential is one of the most beautiful wood urns available today. Dimensions: 12"w x 8.25"d x 7.25"h 250 c.i. Solid Hardwood
Price: $425.00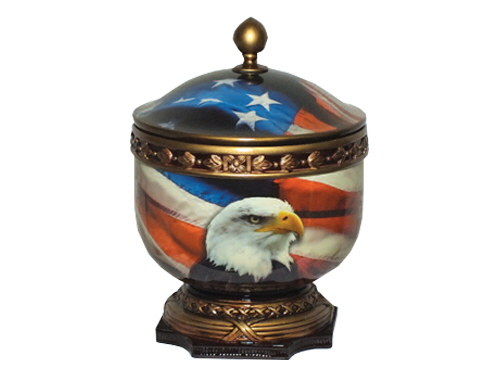 US Flag with Eagle
This round urn features an American Flag and Bald Eagle motif, an intricate pedestal and lip and a matching lid with a simplistic bud on top. 220 C.I., 8.5" W x 12" H
Price: $695.00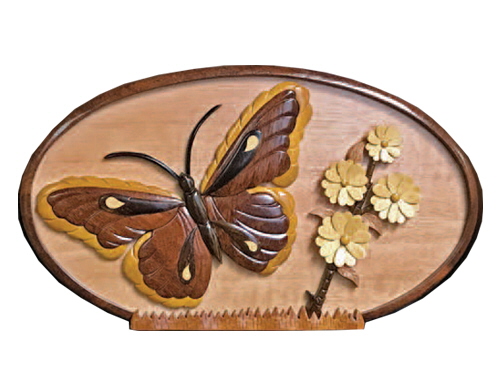 Butterfly with Daisy Urn
6.5"H x 5.7"D x 11.38"W, 205 C.I.
Price: $695.00